Olympics
---
February 21
February 23
---
Photos
---
Virginia (and surrounding States)
Clippings (various Photoshop projects I have worked on)
---
If you use images from this site download them and put them on your own server. Thank-you.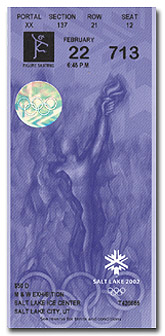 2002 Winter Olympics
Salt Lake City, Utah
---
February 22, 2002
We began our day by getting on a bus at the crack of dawn that took us to Park City for the Women Giant Slalom. We hiked up the mountain and found a nice spot on the snow to spread out our blanket.
Then we ventured into Salt Lake City for the Ice Skating Exhibition at the Salt Lake Ice Center (aka the Delta Center).
In between we spent some time wandering around Olympic Square. This was fun to feel a part of this festivities.
Click on each thumbnail for a bigger picture.