Olympics
---
February 21
February 23
---
Photos
---
Virginia (and surrounding States)
Clippings (various Photoshop projects I have worked on)
---
If you use images from this site download them and put them on your own server. Thank-you.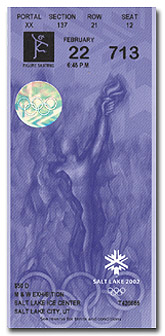 2002 Winter Olympics
Salt Lake City, Utah
---
February 21, 2002
We began our day by heading down to Provo, Utah for the Bronze metal Women's Hockey game--Sweden vs. Finland. I was cheering for Finland (Suomi) since I have friends in that country.
Then we ventured into Salt Lake City to the Metals Plaza for a metals ceremony and met up with my mom.
Click on each thumbnail for a bigger picture.