Olympics
---
February 21
February 23
---
Photos
---
Virginia (and surrounding States)
Clippings (various Photoshop projects I have worked on)
---
If you use images from this site download them and put them on your own server. Thank-you.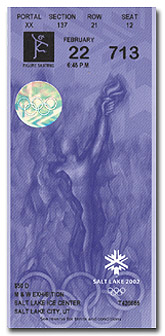 2002 Winter Olympics
Salt Lake City, Utah
---
February 23, 2002
We had only one event this day. But it included walking a mile to the venue. We could have ridden a shuttle bus, instead we walked/ran to a "golden mile" Olympic pin. This lead us to the four-man bobsleigh gold metal event. We were rather cold, but met some great people from Washington, DC.
Click on each thumbnail for a bigger picture.